Wisconsin waited 56 years to go to a bowl game, and when we finally got one it came a year too late. In 1949, a Notre Dame legend and his staff were replaced in Madison by the entire football coaching staff of Lafayette College. This move made some Badger fans uneasy, even though the legend's record at UW was 47-62-6. Ivy Williamson arrived with a modern split-T offense, a 5-3 "Oklahoma" defense, a positive outlook, and what turned out to be a terrific coaching staff. UW football was ready to make a dramatic improvement.
Wiconsin led the nation in defense in 1951. The Badger D allowed 53 points over a nine game schedule. In a game that UW dominated, a disputed call at Illinois sent the Illini to a 14-10 win and on to Pasadena. Because the Big 10- Rose Bowl pact was exclusive, we stayed home. Illinois pounded a weak Stanford team 42-7 on January 1, 1952. The B10's Rose Bowl record moved to 6-0. (7-0 if you count Michigan's win in 1902).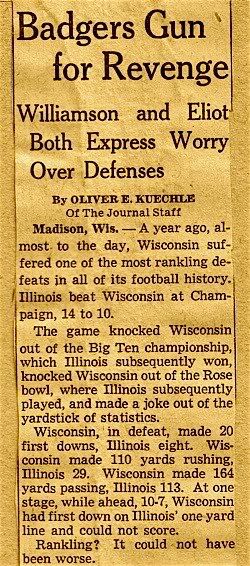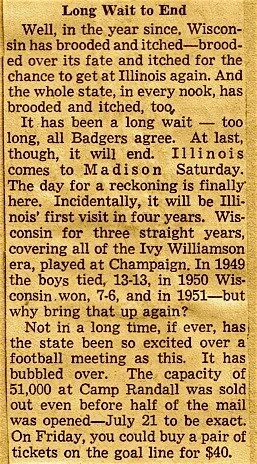 The legendary Oliver Kuechle, the Jeff P of those days, reflected the feeling of Badger fans. The 1952 Illini revenge game in Madison produced an unprecedented demand for tickets. The situation got out of hand on game day when un-ticketed fans entered the stadium by handing ticket -takers cash. They stood or sat in the isles. The official attendance, incluingd ticketed standing room, is listed at 52,071, but that was well short of the actual crowd. Led by our two great backs, Al Ameche and Harland Carl, the Badgers hammered out a 20-6 win. I had a student ticket. A young TDX was there selling popcorn.
Harland Carl on the move.
At the end of the 1952 season, the Badgers were selected to represent the Big Ten in the Rose Bowl over co-champion Purdue by a vote of the conference AD's . We faced a powerful USC team, a team that would send eleven players to the NFL (an amazing number in those days of smaller rosters). It was the best Pacific Coast Conference team of the Pact-years buy a wide margin. Our starting lineup for the Rose Bowl game:Offense:
E Kent Peters, 6-1, 191. Glen Ellyn, IL
T Charles Berndt, 6-3, 259, Wausau HS
G George Steinmetz, 6-3, 192, Madison West HS
C George Simkowski, 5-11, 189, Chicago, IL
G Clarence Stensby, 5-11, 187, Massillon, OH
T Art Prchlik, 6, 190, Cleveland, OH
E Irv Andrykowski, 6-1, 185, Milwaukee South Division HS
QB Jim Haluska, 5-10, 165, Racine St. Catherine HS
HB Harland Carl, 5-11, 176, Greenwood HS
HB Jerry Witt, 5-10, 184, Marshfield HS
FB Alan Ameche, 6, 205, Kenosha HS
Defense:
E Jerry Whurman, 6, 183, Milwaukee West Division HS
T Dave Suminski, 5-10, 198, Ashland HS
NG Bob Kennedy, 5-11, 195, Rhinelander HS
T Carl Martin, 5-11, 218, Highland Park, IL
E Don Voss, 6-3, 185, Milwaukee North Division HS
LB Roger Dornberg, 5-8, 190, Naperville, IL
LB John Dixon, 6, 178, Wisconsin Dells HS
LB George O'Brien, 5-10, 187, Park Ridge, IL
DB Paul Schwaiko, 5-9, 185, Kenosha HS
DB Roy Burks,5-8, 165, Louisville, KY
S Bert Hable, 6-3, 172, Bloomer HS
Some of you know some of these players. This is how they looked back then.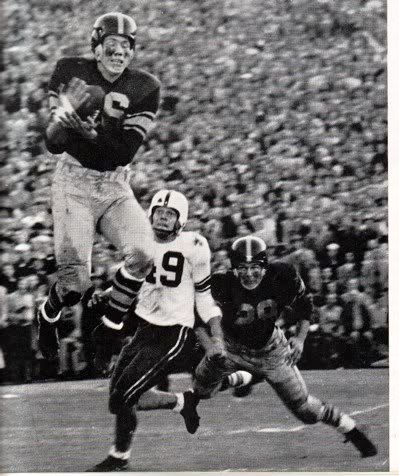 On January 1, Carl was on the sidelines the entire game with a bad knee. Led by Ameche, the Badgers ran for 211 yards to USC's 48. The Trojans had 185 yards passing to UW's 142. With USC leading 7-0 late in the game, and the Badgers driving, Carl was inserted for one last play. Haluska''s pass went off his finger tips in the end zone. Had Carl been healthy.............
USC 7 UW 0.
From the Chicago Tribune of Dec. 13, 1953:
"Ivy Williamson, football coach at Wisconsin, today requested a somewhat startled board of regents to increase neither his $14,600 yearly salary nor the wages of his six assistants - at least not yet. The regents, who traditionally act on coaches salaries at the December meeting each year, passed a resolution commending the coach for his suggestion. Williamson, who made the request so that his staff would not be considered apart from the faculty, suggested that any pay hikes be made in July when the entire faculty salary budget is approved by the board."
Ivy went on to a 41-19-4 record at UW before stepping aside due to a health condition.